OC Surf Fest is one of our biggest and most fun events of the year!  The party starts Friday with a little kickoff party at Barn 34, only a few blocks from the contest site.  Saturday is filled with 16 teams from all over the United States going head to head in a competitively fun environment with a focus on fun, sharing waves, and having a great time.  Sunday is our professional longboard event. Last year we showcased 16 of the best longboarders in the country competing in a more traditional – focused style to take home part of a $5000 prize purse.  
Come out and join us for some of the BEST surfing on the East Coast!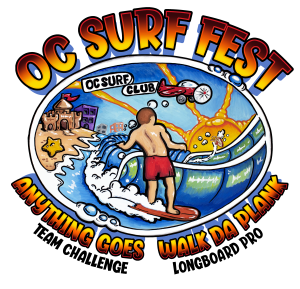 OC SURF FEST
Friday, June 7th – The Kick Off Party @ Barn 34 – 6PM.  The Legends induction and surf party.  Great time to celebrate the Surfing Family that gather for this event.  Food and drink specials.  This event is the pre-party to the surf/ocean event of the year.
Saturday, June 8th – Anything Goes Team Challenge – 9AM, Castle in the Sand Hotel, 37th St. & the Beach.  16 teams of 5 surfers – Family, Business, Friends, Surf Groms, Girls, Old Timers, Young rippers!!  It's open to all to have fun.  This is a fun day.  Heart and soul of this day is a celebration of the Ocean and its family.  Interactive fun for the whole family.
Sunday, June 9th – Walk Da Plank Longboard Pro Open – 9AM, Castle in the Sand Hotel, 37th St. & the Beach.  This event is a showcase of some of the nation's top longboarders.  Over the years we have seen great exciting surfers dueling it out for bragging rights and $5,000 in cash.  The surfing is mind-blowing at this level.
Thank you to our Sponsors for this years OC Surf Fest weekend!